Full Set 6-6 Color Screen Printing Kit
Screen printing is arguably most versatile in printing, almost everything can be used as substrate. Our company provide this 6 color 6 station screen printing package with all stuff needed by a small screen printing workshop. we show buyers skilled operation and application by words and video, achieving integration of technique ,equipment, material and service.
6 Color 6 Station Screen Printing Machine (006527)
Use it to press onto:
 
Specifications
*Knitwear
*Paper&wood


*Plastic


*Glass and ceramic
*Metal *Sign *Circuit board *Leather
 
Machine dimensions

190*190*110cm/74*74*43inch

Pallet area

45*55cm(18*22inch)

Package
5 cartons
Shipping weight

335Lb (152kg)
1800W Flash Dryer (006042)
Main Features

Foundation is consistent with heating box ,stable, saving-space and overcoming the flaw caused by traditional "

十

"that easily gets knock and stuck.

Easy operation: After well installed, connect the power supply and turn on the switch and then it will work automatically.

With four universal wheels, easy move.
Sturdy design with powder coated housing to prevent rust.
US, Canada Plug standard
Easy assembly. with a few bolts you have a flash that's ready to be put to work.

Parameters

Input voltage

:

11

0V

Power

:

18

00W

Baking area reaches

18"x24" (45x60cm)

.

Weight

:

75Lb (

34kg)

Crate Dimension: 34"x20"x14"(86x51x36cm)
UV Exposure Unit (006800)

Parameters
Input Voltage of Exposure Unit: 110V

Exposure Area: 19.7"x19.7" (50x50cm)
Glass Size: 14.6"x18.5"x0.3" (35x45x0.8cm)
Rubber Subplate Size: 19.7"x19.7" (50x50cm)
Light Tubes' Powder: 26W/pc
Total Powder: 52W
Net Weight: 22Lb (9.7kg)
Shipping Weight: 28Lb (13kg)
Package Size: 21"17"12.6" (53x43x32cm)
Screen Drying Cabinet (006005)
Voltage
110V
Power
800W
Plug standard
US, Canada
Machine size

27.9

"x24"x12.2" (

71x61x31

cm)

Packing Size

32.6"x27.9"x15.7"? (

83x71x40

cm

)

Net weight

80

Lb (36kg)

Shipping weight
88Lb (40kg)
Note:
*?Max screen frame size : 25"x21"(64x53cm).
* The top layer need to put in the screen frame in vertical direction.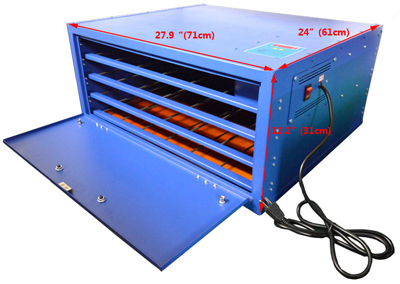 Hand Screen Stretcher (006504)

Screen stretching is the most important procedure to make screen. Stretching tool and technical define the quality of emulsion coating ,screen stretching and screen printing.

Specifications

Crate dimension: 28"*19"*11"(70×48×28CM)
Net weight: 42Lb(19kg)
Shipping weight: 50Lb(23kg)
Screen Printing Equipments & Materials Kit
This kit is especially designed and equipped for new hand to learn and do your DIY screen printing. Except for the screen printing equipments, it nearly includes all the materials for doing T-shirt screen printing; Another important thing is that we will also provide the full set of technical support.

Besides,

if you want to buy the screen press, screen stretcher, exposure unit, flash dryer and other screen printing equipments,
you can also find from our warehouse or just contact with us.
So why still hesitate? Act now!!!
Washout Tank with Water Gun Included

Plate washing is one of the most important processes during screen printing. Premium plate-washing tank of our company is furnished with water tank, automatic pressurizing water spray gun and screen frame clapboard, which can make plate washing cleaner and more convenient.

Parameters

Internal dimension: 26"X20"X15"(66X50X37cm)

Net Weight: 15Lb (7kg)
UV Exposure Unit Kit
Screen plate making is one of the most important procedures for doing screen printing business.
This kit is specially designed for making screen printing plate. With this very low cost kit, you can easily make your own screen printing plate or doing screen plate processing business without buying other equipments or materials except for the computer and printer. It's easy operated, which will be your best choice!
 

 

 

 

20 pcs transparency film & 100ml Blackening Agent:
blacken printed graphics to guarantee a better exposing effect

1 Photosensitive Emulsion & 1 14" Emulsion Scoop Coater

 

4 pcs 16"x20" Frame with 120 mesh count &
1 Aluminum Foil Tape
Printing & After-printed Screen Processing Kit

 

500g Pallet Adhesive &
1 Pallet Adhesive Scraper

 

8 bottles Inks
(black, white, green, red, yellow, blue)

4 Spatulas &
4 sheets Clean Up Card
 

4 pcs 13" squeegees

2 pc T-shirts
for printing test

100g Emulsion Remover Powder

200g
Ghost Cream

200g All Mesh Prep Degreaser
Item Included:
1) 1 Six color Six station screen press (006527)
2) 1 Flash Dryer (006042)
3) 1 UV Exposure Unit (006800)
4) 1 Hand Screen Stretcher (006504)
5) 1 Screen Drying Cabinet (006005)
6) 1 set of screen printing equipments & materials kit (006801), which includes the following items:
01) 1 set of Washout Tank (006008)
02) 2 pcs of T-shirts (002087)
03) 1 set of photosensitive emulsion (008401)
04) 1 pc of 14" Emulsion Scoop Coater (007001)
05) 20 sheets of A4 Transparency Film (007003)
06) 1 bottle of Graphics Blackening Agents (007006)
07) 6 16"x20" Screen Frame with 120 Mesh Count (007266)
08) 1 roll of Aluminum Foil Tape (008433)
09) 1 bottle of Pallet Adhesive (008450)
10) 1 pc of Pallet Adhesive Scraper (009161)
11) 8 bottles of Inks (008127-008132)
12) 4 pcs of Spatulas
13) 4 sheets of Clean Up Card (009162)
14) 6 pcs of 13" Squeegees (007307)
15) 1 bottle of Emulsion Remover Powder (008417)
16) 1 bottle of Ghost Cream (008420)
17) 1 bottle of All Mesh Prep Degreaser (008512)